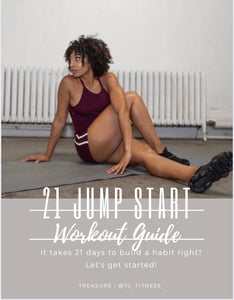 *Please note the following
-Guides will be sent to the email address that is entered upon purchase
-All guides take 2-3 business before receiving
-If for some reason you do not receive your guide by the end of the third business day 11.59 pm CST, please check your spam folder first, but then please don't hesitate to email limitlessfitnesstwt@gmail.com
-There are no refunds on this product 
Description
21 Jump Start is a 5-week full body , gym based,  workout routine that is comprised of HIIT (Hight Intensity Interval Training) workouts, calisthenics and weighted exercises to have an overall balanced workout that touches on all muscle groups.
The program is based off of the theory that it takes 21 days to build a habit, and after performing 21 days worth of exercise routines, you are hopefully out of that stubborn slump, have developed some new routines, or just feel more confident in the gym working out on your own.
Who is this guide for?
This guide is suitable for everyone! Majority of the exercises are timed, so if someone needs to take a pause within the given time frame, please do that. You know your body best! I encourage you to challenge yourself of course, however depending on where you are starting in your fitness & health journey, there is nothing wrong with adjusting where necessary, building more endurance, and getting back to the set as soon as you can.