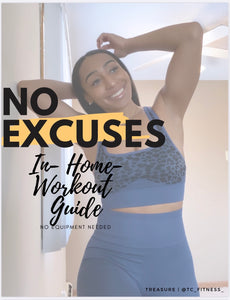 *Please note the following
-Guides will be sent to the email address that is entered upon purchase
-All guides take 2-3 business days before receiving 
-If for some reason you do not receive your guide by the end of the third business day 11:59 pm CST, please check your spam folder first, but then please don't hesitate to email limitlessfitnesstwt@gmail.com
-There are no refunds on this product
Description
As you can tell from the title of this workout guide, we aren't making any excuses as to why we can't stay active.
This NO EXCUSES Guide is a 4-week, home based , workout routine that is comprised of HIIT (High Intensity Interval Training) movements , and other calisthenics. Absolutely NO EQUIPMENT is needed yall! This mixture of effective, efficient, and balanced exercises will get you up and moving, heart rate up, and a good sweat to top everything off!
Who is this guide for?
The guide is for everyone! Modify when necessary. Take rests as needed . Eliminate extra impact depending on where you are fitness wise, but outside of that the movements can be performed from beginner level to advanced.